Detailed Review of ThriveCo's Daily Sunscreen Gel
About ThriveCo Sunscreen

It is a highly absorbent, ultralight sunscreen gel that offers broad spectrum sun protection while keeping the skin hydrated. It glides smoothly on the skin, without any greasy residue or white cast, and doubles up as a makeup primer. ThriveCo's Daily Sunscreen Gel creates an invisible veil of protection against UV damage and environmental aggressors to preserve the skin's youthfulness.
Fast Facts

• Product Name: ThriveCo Daily Sunscreen Gel
• Volume: 50 ml
• Benefits: Protects against photodamage, UV rays, and blue light emissions from gadgets. It prevents skin tanning, dullness, and discoloration.
• Active Ingredient: SunCat DE and Titanium dioxide
• About the brand: ThriveCo is a science-backed brand that develops innovative beauty solutions by involving the latest technology and best of ingredients.
Benefits of ThriveCo's Ultimate Toner

Using a toner ensures that residual sebum and pollutants are extracted from the pores for a squeaky clean feel.

• It is a sunscreen and moisturizer hybrid: This sunscreen forms a barrier against sun and blue light damage while keeping the skin hydrated and glowing for hours at a stretch; important things to consider during your skin care treatment. The Hyaluronic acid present in the formulation keeps the skin supple for up to 72 hours.
• Offers long-lasting sun protection: It provides consistent broad spectrum sun protection and shields from UVA and UVB rays.
• Inhibits melanin synthesis in the skin: SunCat DE's encapsulated technology ensures timely sun protection to prevent skin tanning and hyperpigmentation even after prolonged sun exposure.
• Prevents skin ageing: Polyglutamic Acid, acts as an anti-oxidative superhero to protect against environmental aggressors and pollutants; thereby, protecting from skin ageing caused by free radical damage.
• Suitable for all skin types: The formula is gentle enough to be used by all skin types including acne-prone, sensitive skin.
ThriveCo Ultra-Light Daily Sunscreen Gel ,Mineral-Based SPF 50 PA+++ for Protection Against UVA/UVB rays
How to use
Incorporate this lightweight gel in your morning skincare routine. Apply a generous amount of sunscreen on the face, neck, and other exposed areas. Massage it, till it is fully absorbed. Apply every 4 hours or after swimming for added sun protection.
Sun-defense Skincare Routine
STEP 1
ThriveCo Hydrating Foaming Facial Cleanser, 80ml
Kick start your morning with a luxuriously foaming face wash that cleanses and hydrates the skin at the same time.
STEP 2
ThriveCo Pore-Minimizing Ultimate Toner, 250ml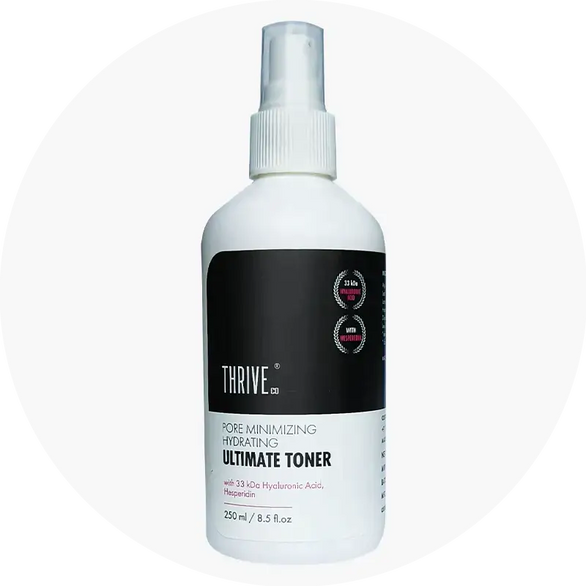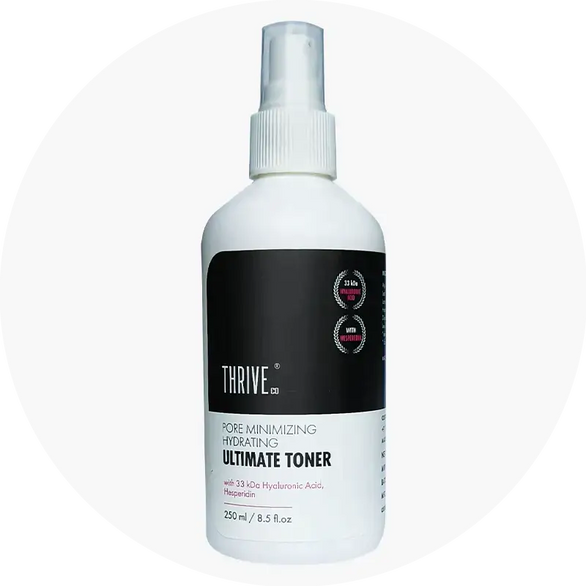 Unclog your pores with ThriveCo's Ultimate Toner. It contains hesperidin which decongests and minimizes pores while smoothening skin texture.
STEP 3
ThriveCo Hydrating Gel, 50ml
It is a non-greasy gel-based moisturizer that keeps the skin hydrated for up to 72 hours.
STEP 4
ThriveCo Daily Sunscreen Gel, 50ml
It seals the goodness of the previously applied skincare products while offering broad spectrum sun protection. This sunscreen also works as an excellent makeup base.
Packaging Review
• Product Texture: Lightweight and non-greasy
• Color: White
• Product Scent: Fragrance-Free
• Packaging Feel: 50 ml tube packaging
Results Expected:
The skin feels dewy and smooth after every application. It helps in minimizing UV damage and protects from sunburn as well as tanning while preventing moisture loss from the skin.
ThriveCo Ultra-Light Daily Sunscreen Gel ,Mineral-Based SPF 50 PA+++ for Protection Against UVA/UVB rays