Detailed Review of ThriveCo's Hair Growth Serum 2.0
About ThriveCo Hair Growth Serum 2.0

ThriveCo's pure excellence is manifested in its Hair Growth Serum which exceptionally combats hair loss and deeply nourishes hair. Revolutionary and clinical tested ingredients like Redensyl, AnaGain, Procapil, and Capilia Longa replenish and reactivate hair growth in areas of balding and hair thinning. Additionally, it also contains hydrating Sodium Hyaluronate and shielding Pentavitin, which repairs the moisture barrier of the scalp, ensuring continued hydration healing dry scalp. This will result in shinier, denser and thicker hair, straight out of a magazine photoshoot.
Fast Facts

• Product Name: ThriveCo Hair Growth Serum 2.0
• Volume: 50 ml
• Benefits: This all-round serum infused with advanced hair growth promoters - Anagain, Redensyl, Procapil and Capilia Longa, is the ideal option to begin a new hair growth phase. It rejuvenates, replenishes, moisturizes and fixes the hair quickly and frequently, serving as an absolute power pack to fight against hair loss, thinning and itchy scalp.
• Active Ingredient: Redensyl, AnaGain, Capilia Longa, Procapil
• About the brand: ThriveCo is a science backed skincare and haircare brand that thrives on cutting edge technology and result oriented formulations bringing together the best minds in the business to ensure that the self care needs of Indian audiences are not being overlooked. Being environmentally friendly and realistic in its approach, free of silicones, parabens and other such products, the brand has in a less time created a big impact and become a complete customer favorite.
Who can use ThriveCo's Hair Growth Serum 2.0?

This serum is very effective and gentle on hair and can be used by both men and women preferably above the age of 18 years who have been facing unusual hair loss. The formulation is meant to reactivate hair growth, so as long as we own hair follicles, the product is relevant to maintain hair health.
Benefits of ThriveCo's Hair Growth Serum 2.0

Using a toner ensures that residual sebum and pollutants are extracted from the pores for a squeaky clean feel.

1. Repairs Moisture Barrier of the scalp: Due to the presence of Sodium Hyaluronate and Pentavitin, the formula ensures intense hydration, reduces dryness along with fixing the moisture barrier of skin. The special binding properties of Pentavitin do not get washed away easily and the scalp continues to remain well hydrated and moisturized.

2. Boosts hair growth: Containing the best possible hair growth ingredients in history, the formulation directly works on human hair stem cells to rebalance the hair growth cycle. The breakthrough formula controls the ageing of hair and strengthens the follicles to reactivate hair growth.

3. Visible Reduction in hair loss: Hair loss is linked to imbalance in hair growth. The serum strengthens and aids in regrowth by activating hair follicles to provide nourishment and oxygen supply. It effectively over time dramatically reduces hair thinning and hair loss which eventually leads to bald patches.

4. No side effects: The serum doesn't contain any harmful ingredients which would backfire or cause allergies. One of the best things about ThriveCo is that all the products are made from ingredients abundant in nature, after extensive research and are carefully curated keeping in mind the needs and wants of the Indian audience. They're dermatologically safe and tested, devoid of chemicals like parabens, silicones, phthalates to name a few.

ThriveCo's Hair Growth Serum 2.0
How to use
The application of Hair Growth Serum 2.0 is honestly very easy. All you have to do is apply a generous amount using the dripper onto your scalp in the area of hair loss and hair thinning. Massage into the scalp by moving your fingers back and forth in a circular motion, repeat this process for 5 minutes and rinse your hands afterwards.
STEP 1
ThriveCo Anti-Dandruff Pre-Shampoo Treatment, 50ml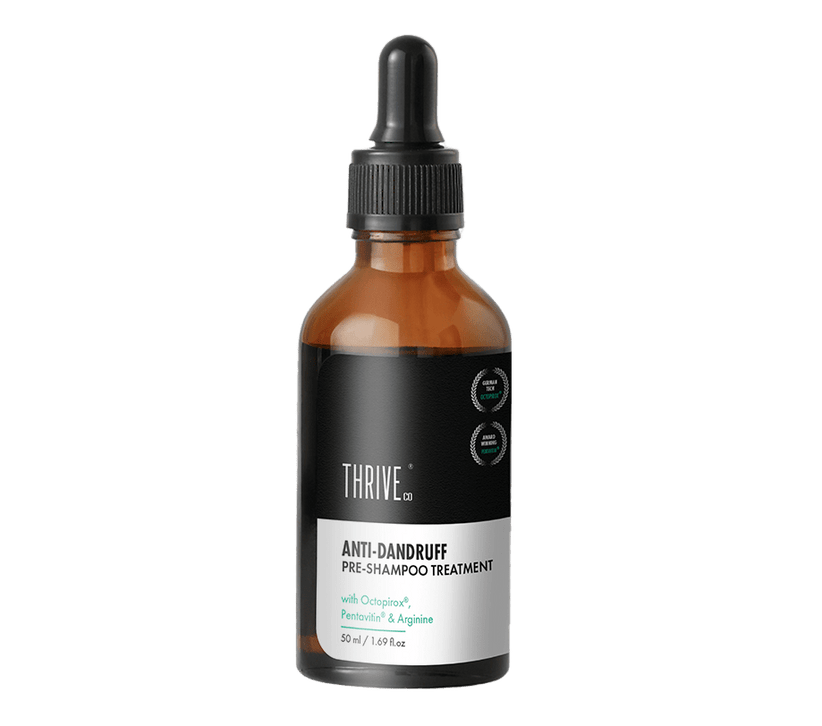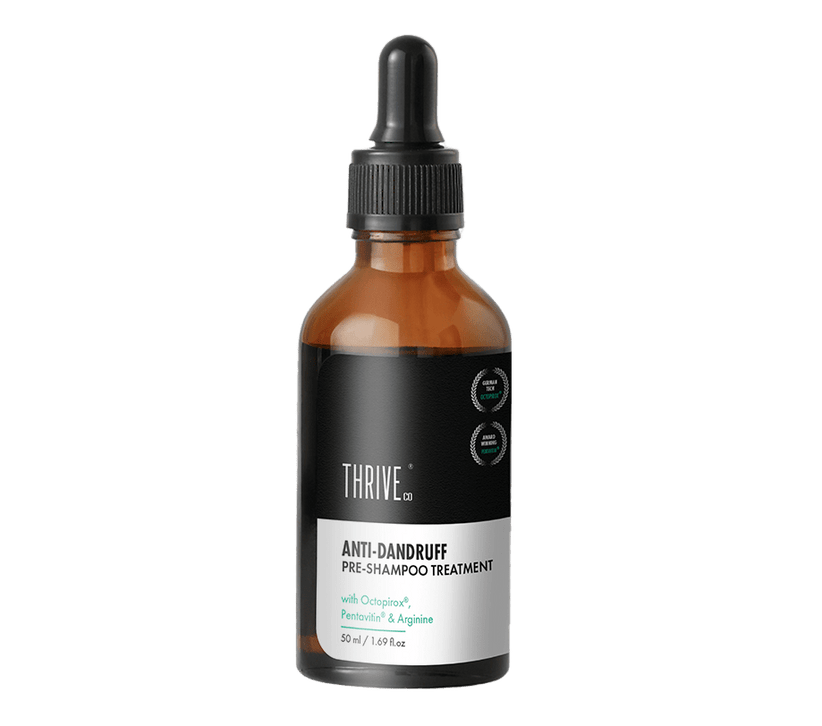 This revolutionary pre-shampoo solution with cutting-edge ingredients, such as, anti-dandruff active Octopirox, hydrating Pentavitin and breakage-reducing Arginine, combats dandruff, soothe itchy scalp and aids hair growth.
STEP 2
ThriveCo Hair Vitalizing Shampoo, 250ml
An easy fit into everyday hair care regime, this mild shampoo fights hair loss, boosts hair growth and improves hair volume. Formulated with Caffeine, Jamaican Black Castor Oil, Arginine & Amino Acid Complex, it is the ideal solution to all hair care problems.
STEP 3
ThriveCo Hair Growth Serum 2.0 | 50ML
Formulated with Redensyl, Anagain and Procapil, this one of a kind serum is scientifically proven to cease hair fall and reactivate hair stem cells to stimulate healthy hair growth.
• Product Texture: Liquid
• Color: Clear liquid
• Product Scent: Odorless
• Packaging Feel: 30 ml dark glass bottle with a dropper dispenser
THRIVE HAIR SERUM REVIEWS BY DOCTORS
Results Expected:
With regular use, there is a noticeable result in shinier, denser and thicker hair growth.
Final Verdict
ThriveCo Hair Growth Serum is an excellent formula to fight hair loss and maintain hair & scalp health. The serum reactivates hair stem cells to boost hair growth, volume and density.
ThriveCo's Hair Growth Serum 2.0