Detailed Review of ThriveCo Radiance Serum for Reducing Hyperpigmentation and Melasma
About ThriveCo Radiance Serum

ThriveCo's Radiance Serum effectively fades hyperpigmentation, melasma, sun spots, post-acne blemishes, textural irregularities, and dark spots. Formulated with a 20% Radiance complex that combines skin brightening ingredients like Tranexamic Acid, Azelaic Acid, and Kojic Acid, it also contains Cybright. This serum reduces pigmentary imperfections on the face and other body parts like the neck, back, knee, elbows, and inner thighs.
Fast Facts

• Product Name: ThriveCo Radiance Serum
• Volume: 30 ml
• Benefits: It is a potent treatment for skin discoloration, tanning, melasma, hyperpigmentation, sun spots, and photodamage caused to the complexion.
• Active Ingredient: Tranexamic Acid, Kojic Acid, Azelaic Acid and Cybright
• About the Brand: ThriveCo is a science-backed brand that develops innovative beauty solutions by involving the latest technology and best ingredients.
Who can use ThriveCo Radiance Serum?

For skin care, men and women over the age of 20 can use this serum regularly to fade skin pigmentation and even out skin tone. This product is not recommended for pregnant women and lactating mothers.
Benefits of ThriveCo Radiance Serum

• Promotes a uniform complexion: The 20% Radiance formula, in this serum, combines 3 radiance-boosting ingredients; Tranexamic Acid, Azelaic Acid, and Kojic Acid. Tranexamic Acid slows down the production of melanin in the skin, to even out skin tone. Recent studies have revealed, that it offers better results than Vitamin C when it comes to skin brightening. Azelaic Acid, helps in clearing discoloration and acne spots, by reducing tyrosinase activity. Kojic Acid clarifies the complexion and reduces melanin concentration, to lift the veil of dullness from the skin.

• It minimizes hyperpigmentation and melasma: Hyperpigmentation and melasma take place in areas of excess melanin production. Excessive sun exposure, hormonal influences, skin injuries, and age are triggers that contribute to hyperpigmentation. ThriveCo Radiance Serum blocks the cells responsible for melanin production from reaching the epidermis and controls hyperpigmentation.

• Evens out textural irregularities: The 3 acids present in the serum, work together to smoothens out skin texture. The Niacinamide present in the formula clears congested pores to even out the skin.

• Boosts skin luminosity: Cybright also known as rainbow algae is a rare ingredient, that adds radiant transparency and an ethereal glow to the skin. It inhibits melanogenesis, (the process of excess melanin production) to promote a uniform skin tone.


THRIVECO RADIANCE SERUM, 30ML
How to use
Step 1:
Cleanse skin, and gently massage a few drops of the Radiance Serum over the face and neck.

Step 2:
Follow it up with a night cream in the PM and sunscreen in the AM. It can also be used in areas of hyperpigmentation like elbows, armpits, and nape.

Results:
• Skin appears more luminous by 27% within one week
• Decreases the total amount of melanin production in the epidermis by 90%
STEP 1
ThriveCo Hydrating Foaming Facial Cleanser, 80ml
This foaming cleanser quenches the skin with its hydrating properties with every wash. It is gentle enough to be used multiple times a day.
STEP 2
ThriveCo Pore-Minimizing Ultimate Toner, 250ml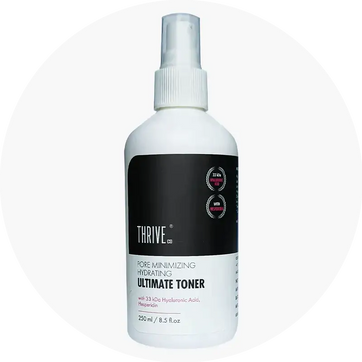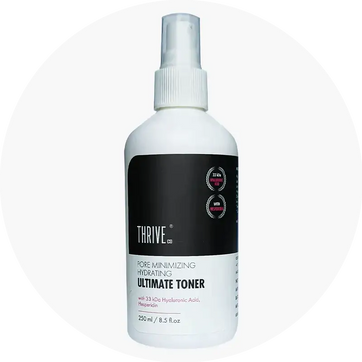 This pore-tightening toner unclogs and shrinks enlarged pores for smooth skin.
STEP 3
ThriveCo Radiance Serum, 30ml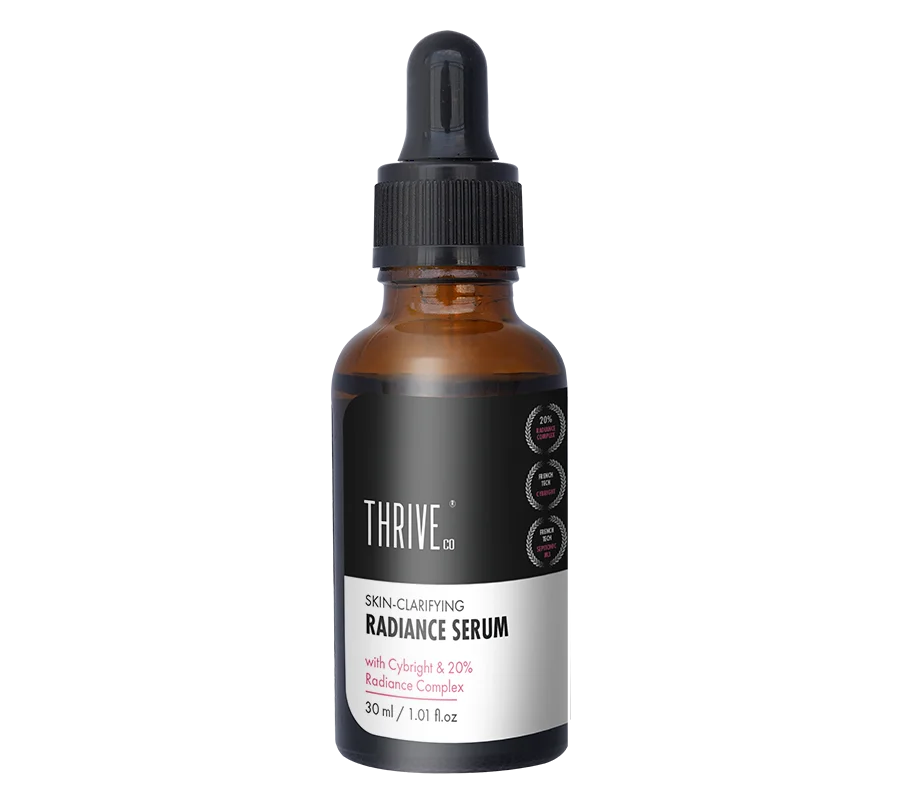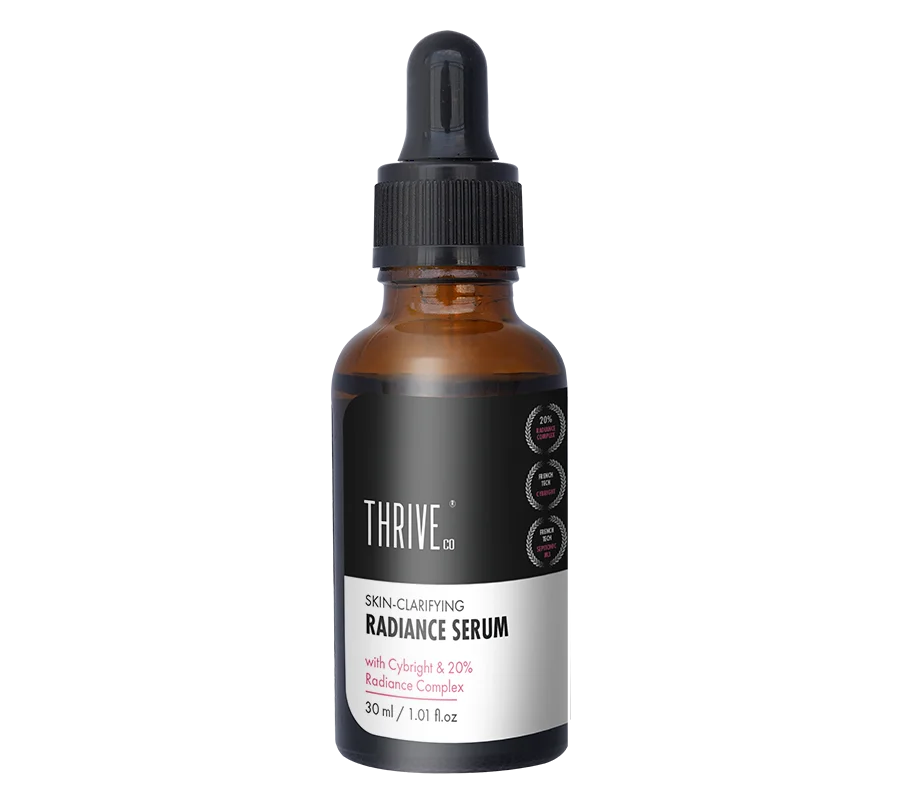 It clarifies and evens out the skin, while you sleep.
STEP 4
ThriveCo Anti Ageing Face & Neck Cream, 50ml
It seals the skin with a light layer of moisture and protects from transepidermal water loss. Its anti-ageing properties maintain the skin's elasticity.
• Product Texture: Lightweight water-gel hybrid consistency
• Color: Clear
• Product Scent: Fragrance-Free
• Packaging Feel: Dark glass bottle with dropper dispenser
Results Expected:

Skin care results - It reduces enlarged pores, dull skin, skin inflammation, dehydration, and skin sensitivity. Over time skin appears smooth, and luminous without any textural irregularities.
THRIVECO RADIANCE SERUM, 30ML
DERMATOLOGISTS RECOMMENDED SERUM FOR YOUR RADIANT SKIN