Detailed Review of ThriveCo Ultimate Toner for Pore Minimization
About ThriveCo Ultimate Toner

ThriveCo's Ultimate Toner helps in skincare management as it clarifies and corrects skin while minimizing skin pores by 36% in just 8 weeks. It clears dirt and debris from the skin and shrinks the pore size to even out skin texture and offer porcelain smooth, visibly poreless skin. Enriched with Hesperidin, Tazman Pepper, and Hyaluronic Acid it enhances microcirculation in the skin to shrink pore size and add an even radiance to the skin.
Fast Facts

• Product Name: ThriveCo Ultimate Toner
• Volume: 250 ml
• Benefits: The toner clears congested pores and minimizes enlarged pore size to reveal youthful skin.
• Active Ingredient: Hesperidin and tazman pepper
• About the brand: ThriveCo is a science-backed brand that develops innovative beauty solutions by involving the latest technology and best of ingredients.
Who can use ThriveCo Ultimate Toner ?

Men and women across all skin types seeking skin management options can use this toner to tighten and minimize enlarged pores.
Benefits of ThriveCo's Ultimate Toner

Using a toner ensures that residual sebum and pollutants are extracted from the pores for a squeaky clean feel.

• Minimizes Pore Size: The anti-inflammatory properties of Hesperidin present in this toner minimizes the size of enlarged pores by removing pore-clogging dirt and sebum. It refines and smoothens the skin texture while adding a healthy glow to the skin.
• Hydrates and refreshes skin: Hyaluronic Acid present in this toner, adds a healthy glow to the skin. It can be used several times a day to add a boost of hydration every time the skin feels dull and dry.
• Improves the efficacy of the following skincare products: ThriveCo's Ultimate Toner clears all forms of skin congestion, making it easier for the following serums and moisturizers to penetrate better into the skin and work faster.
• Rebalances the skin's microbiome: With an alkaline pH of 5.5 it calms the skin and rebalances sebum production for fresh-looking skin all day!
• Enhances skin elasticity: It keeps skin supple and plump all day while increasing skin firmness.
ThriveCo PORE-MINIMIZING ULTIMATE TONER FOR SMOOTH, GLOWING SKIN
with Hesperidin, 250 ml
How to use
Cleanse the skin with an exfoliating face wash, to remove surface dirt and grime from the skin. Spritz ThriveCo's Ultimate Toner all over the face and neck and gently pat your skin till it is fully absorbed. Follow up with a serum and moisturizer, for porcelain, smooth taut skin. Use at least twice a day during the morning and nighttime skincare routine. It can be used to refresh the skin in between face washes. Use it every day for 8 weeks to see a reduction of 36% in pore size.
Pore-Minimizing Skincare Routine
STEP 1
ThriveCo Hydrating Foaming Facial Cleanser, 80ml
Formulated with HA, Allantoin and Pentavitin, this mild face wash, gently removes all the dirt and grime from the skin to ensure improved penetration of the following skincare products.
STEP 2
ThriveCo Pore-Minimizing Ultimate Toner, 250ml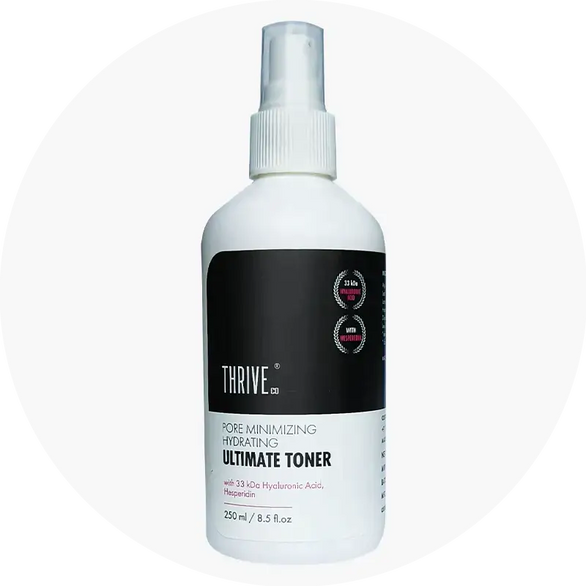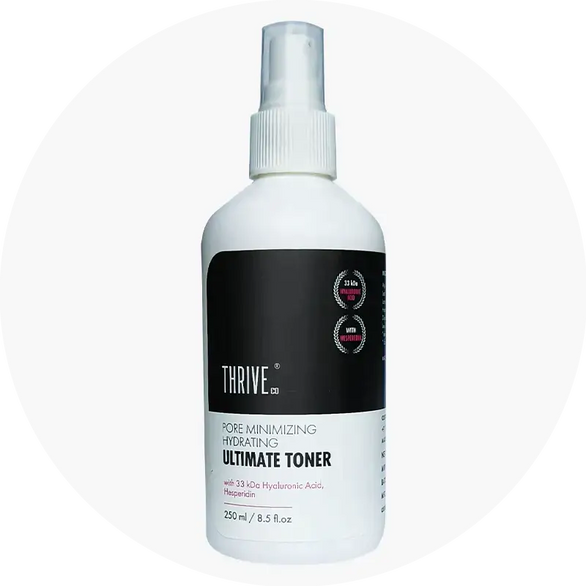 The toner clears congested pores and minimizes enlarged pore size for youthful skin.
STEP 3
ThriveCo Youth Renewal Serum, 30ml (11x Faster Than Your Usual Retinol Serum)
Formulated with retinaldehyde, encapsulated retinol and an age-delay peptide complex, this serum is the gold standard for anti-ageing.
STEP 4
ThriveCo Anti Ageing Face & Neck Cream, 50ml
This multi-faceted anti-ageing cream not only nourishes the skin but also makes the skin appear youthful and healthy, making it the ideal night cream.
Packaging Review
• Product Texture: Watery
• Color: Pale Yellow
• Product Scent: Fragrance-Free
• Packaging Feel: 250 ml plastic bottle with a spray nozzle
Results Expected:
Skin care results - It reduces enlarged pores, dull skin, skin inflammation, dehydration, and skin sensitivity. Over time skin appears smooth, and luminous without any textural irregularities.
ThriveCo PORE-MINIMIZING ULTIMATE TONER FOR SMOOTH, GLOWING SKIN
with Hesperidin, 250 ml