Detailed Review of ThriveCo's Hyaluronic Acid Super Serum
About ThriveCo HA Super Serum
ThriveCo's HA Super Serum is a one-of-a-kind product that contains 5 kDa Hyaluronic Acid, which is the smallest molecule of this intensely hydrating ingredient. Owing to its small molecular size, ThriveCo's HA Super Serum penetrates deeper than regular Hyaluronic Acid serums providing surface level and deep hydration. When it comes down to skin management, it regenerates the skin, making it plump and youthful.
Fast Facts

• Product Name: ThriveCo HA Super Serum
• Volume: 30 ml and 50 ml
• Benefits: This multifaceted serum boosts collagen production and protects from oxidative damage to maintain the skin's youthfulness. It activates the cell's energy cycle for improved cell regeneration.
• Active Ingredients: 5 kDa Hyaluronic Acid
• About the brand: ThriveCo is a science-backed brand that develops innovative beauty solutions by involving the latest technology and best of ingredients.
Benefits of ThriveCo's HA Super Serum

• Intensely hydrating formula: The small molecular size (5 kDa) of the Hyaluronic Acid allows the serum to delve deeper into the skin for long-lasting hydration. Pentavitin holds on to the moisture for up to 72 hours, making the skin look fresh; the unique binding properties of Pentavitin do not get washed away easily and the skin looks moisturized even after washing the face.
• Protects the skin's moisture barrier: Sun damage(impact of UV rays on skin), environmental aggressors, and excessive use of active ingredients in skincare can compromise the moisture barrier of the skin, Copper Peptide present in this serum stimulates the key genes required to protect the skin's barrier.
• Reduces visible signs of aging: After every application, the skin looks smooth; feels healthy, and hydrated. It also diminishes the appearance of wrinkles and fine lines by making the skin appear plumper and firmer. ThriveCo's HA Super Serum refines skin texture and is an excellent precursor to heavy-duty moisturizers.
• Prevents transepidermal water loss: Copper peptides increase the osmosis of the skin fluids and keep the skin's hydration levels high at all times. It helps in improving the transportation of water between cells to keep trans epidermal water loss at bay.
Doesn't contain nasty ingredients: All of ThriveCo products are safe, dermatologically approved and devoid of chemicals like parabens, phthalates, sulfates and silicones.
Who can use ThriveCo's HA Super Serum

This serum is very gentle and can be used by men and women above the age of 16. It is excellent for those who are battling dry, dehydrated skin that lacks glow.
How to Use ThriveCo's Daily HA Super Serum
For effective skin management, the serum should be used in the morning and evening after cleansing and toning the skin. Use the dropper mechanism to dispense 3 to 4 drops of the serum and apply it all over the face and neck allowing it to completely absorb, before layering a moisturizer over it. It can be used by men and women of all ages and skin types.
Ultra Hydrating Skincare Routine
STEP 1
ThriveCo Hydrating Foaming Facial Cleanser, 80ml
Formulated with barrier repairing ingredients like 5 kDa Hyaluronic Acid, Pentavitin, and Allantoin, it is very gentle and repairs the moisture barrier of the skin.
STEP 2
ThriveCo Pore-Minimizing Ultimate Toner, 250ml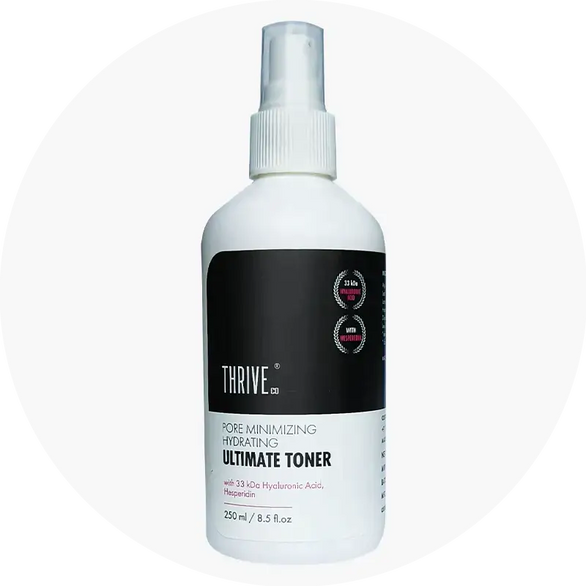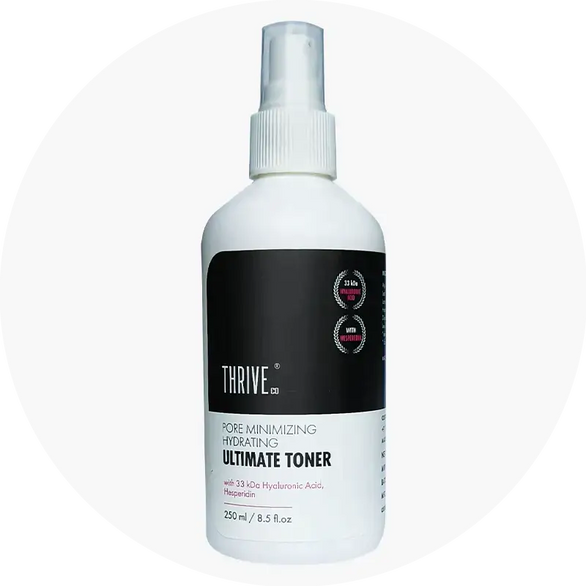 This toner has pore-minimizing properties. It diminishes the look of pores by 36% in just 8 weeks. Combined with the HA serum it helps in making the skin look smooth, taut, and youthful.
STEP 3
ThriveCo Regenerative 5Kda Hyaluronic Acid Super Skin Serum
Applying the serum on damp skin will help in sealing the hydration level of the skin.
STEP 4
ThriveCo Anti Ageing Face & Neck Cream, 50ml
All Hyaluronic Acid serums need to be sealed with a moisturizer to ensure that hydration stays locked within the skin for long hours. This multi-faceted anti-ageing cream not only nourishes the skin but also makes the skin appear youthful and healthy.
Packaging Review
• Product Texture: Gel consistency
• Color: Clear
• Product Scent: Fragrance-Free
• Packaging Feel: Dark glass bottle with a dropper dispenser
Results Expected:
Skin appears intensely hydrated with every use. It adds a healthy glow to the skin while diminishing the appearance of fine lines and wrinkles. It also smoothens irregularities in the skin's texture.