BUY THRIVECO FABULOUS HAIR KIT AND GET ₹ 200 OFF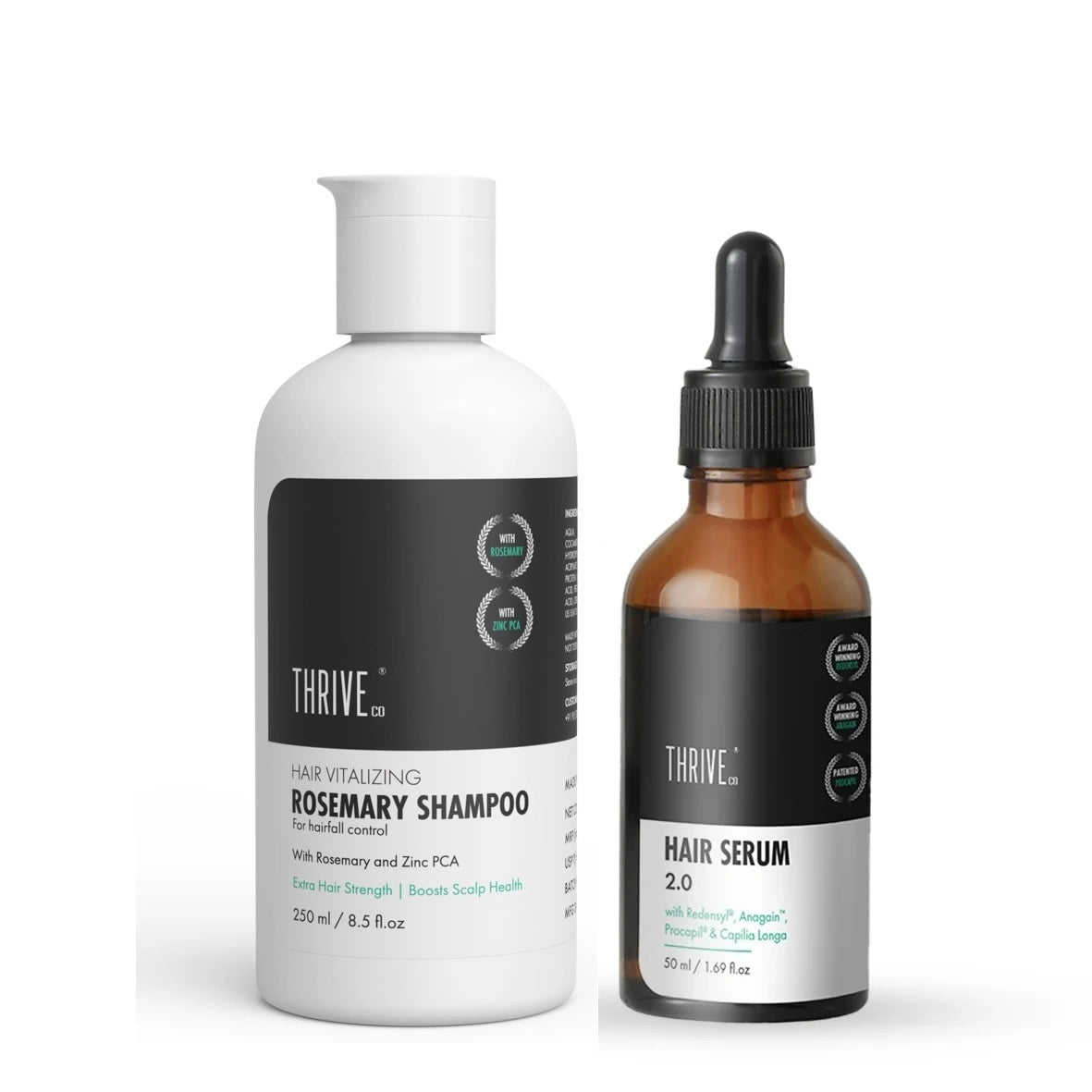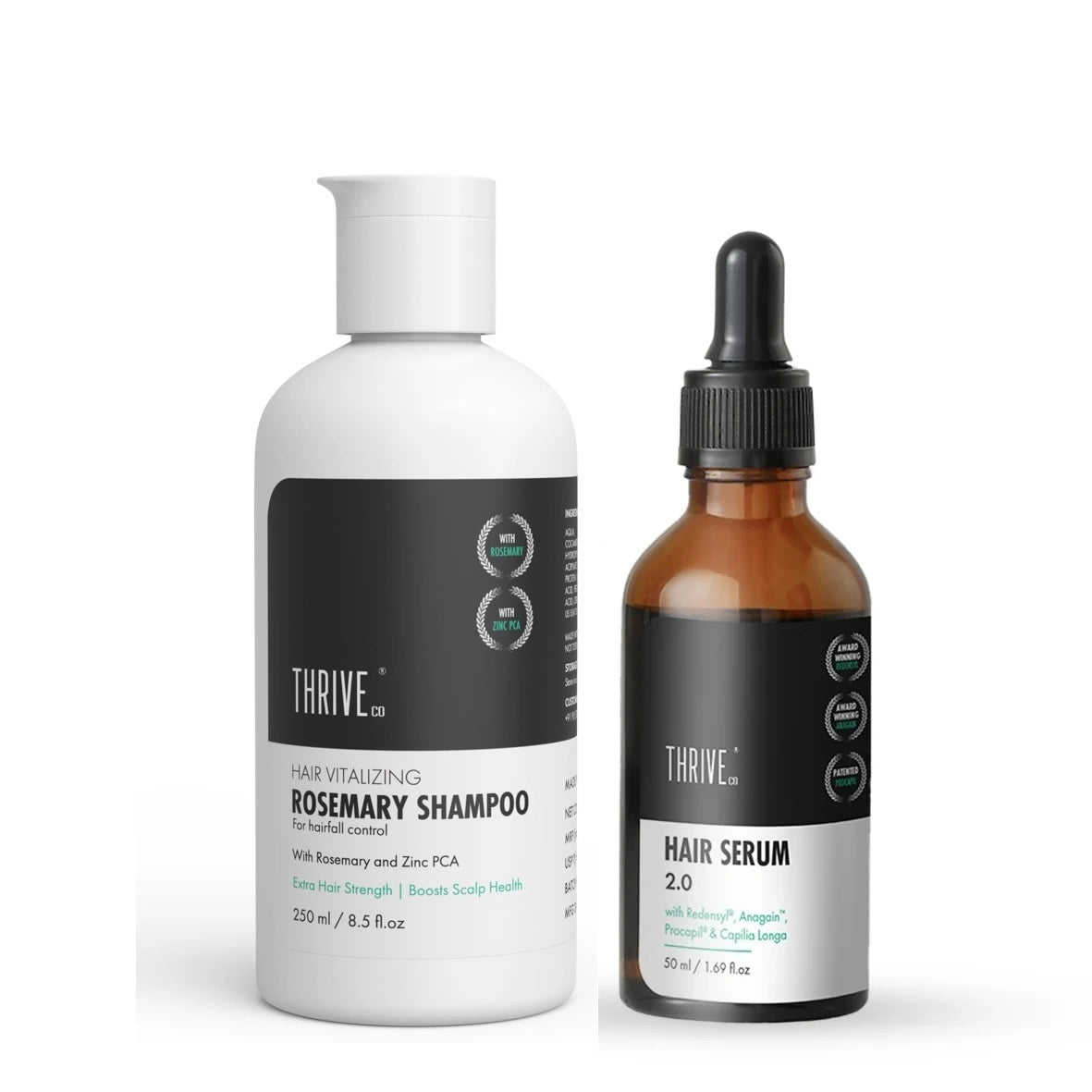 ThriveCo Fabulous Hair Kit: Hair Growth Serum 2.0 + Hair Vitalizing Rosemary Shampoo
ADD THE COMBO TO CART
Real people.

Real RESULTS.
60-DAY CLINICAL TRAIL RESULTS

Hair Density: +40% increase in 60 days

Hair Shedding: -75% Reduction in 60 days

*Results from a combination of Shampoo & Hair Growth Serum
Doctor Recommendations
"I strongly recommend using Rosemary Shampoo and Hair Growth Serum Duo together to have a holistic approach to your hair fall problems."
Dr Deepthi Prasad
MBBS, MD Dermatologist,
Karimnagar

92%
felt their hair was stronger
EFFECTIVE INGREDIENTS FOR EFFECTIVE HAIR GROWTH

Rosemary
A hair growth stimulant strengthens hair strands and improves scalp health as well as prevent premature graying
Zinc PCA
Shields hair follicles and scalp cells from oxidative stress, combating hair aging and thinning
Caffeine
By counteracting the harmful effects of DHT, caffeine can contribute to reducing hair shedding and thinning
HOW TO USE
Step 1 :
Wet your hair in shower
Step 2 :
Apply Rosemary Shampoo on scalp for 1st Wash
Step 3:
Wash your hair
Step 4 :
Apply Rosemary Shampoo on lengths for 2nd Wash
Step 5 :
Wash your hair again. Blow dry & style as you want
THRIVING COMMUNITY
4 LAKH+ CUSTOMERS | 23 COUNTRIES

Sara
⭐⭐⭐⭐⭐
"Using this product faithfully for nearly three months, my hair's texture has significantly improved."
Raj
⭐⭐⭐⭐⭐
"I can't express how much this product has boosted my self-esteem. It's worked wonders on my hair.
Neha
⭐⭐⭐⭐⭐
"I can't emphasize enough how this product has not only revitalized my hair but also given me a newfound sense of confidence."
Amit
⭐⭐⭐⭐⭐
"I'm at a loss for words to describe how much this product has worked wonders on my hair in just two weeks."
THRIVING COMMUNITY
4 LAKH+ CUSTOMERS | 23 COUNTRIES
Hemanth N
⭐⭐⭐⭐⭐
"I have invested lot on my hair and finally found a right product that shows results for the price I pay"
Saveen C
⭐⭐⭐⭐⭐
"Hair prime serum is so amazing. Slow but I can see the progress. It makes me buy bigger packs"
Neeraj J
⭐⭐⭐⭐⭐
"I feel great. My hair looks great already. My hair is getting darker. I love this product. Thanks Thrive!!!"
Shreya
⭐⭐⭐⭐⭐
"I have bought one month pack for my mom. She wanted to test it first. After using for 23 days, she is able to see some results. The grey hair have comparitivley reduced."